Do You Believe? THE POLAR EXPRESS™ Train Ride Returns to GALVESTON
Tickets are on sale now!
For a Magical Experience at the GALVESTON RAILROAD MUSEUM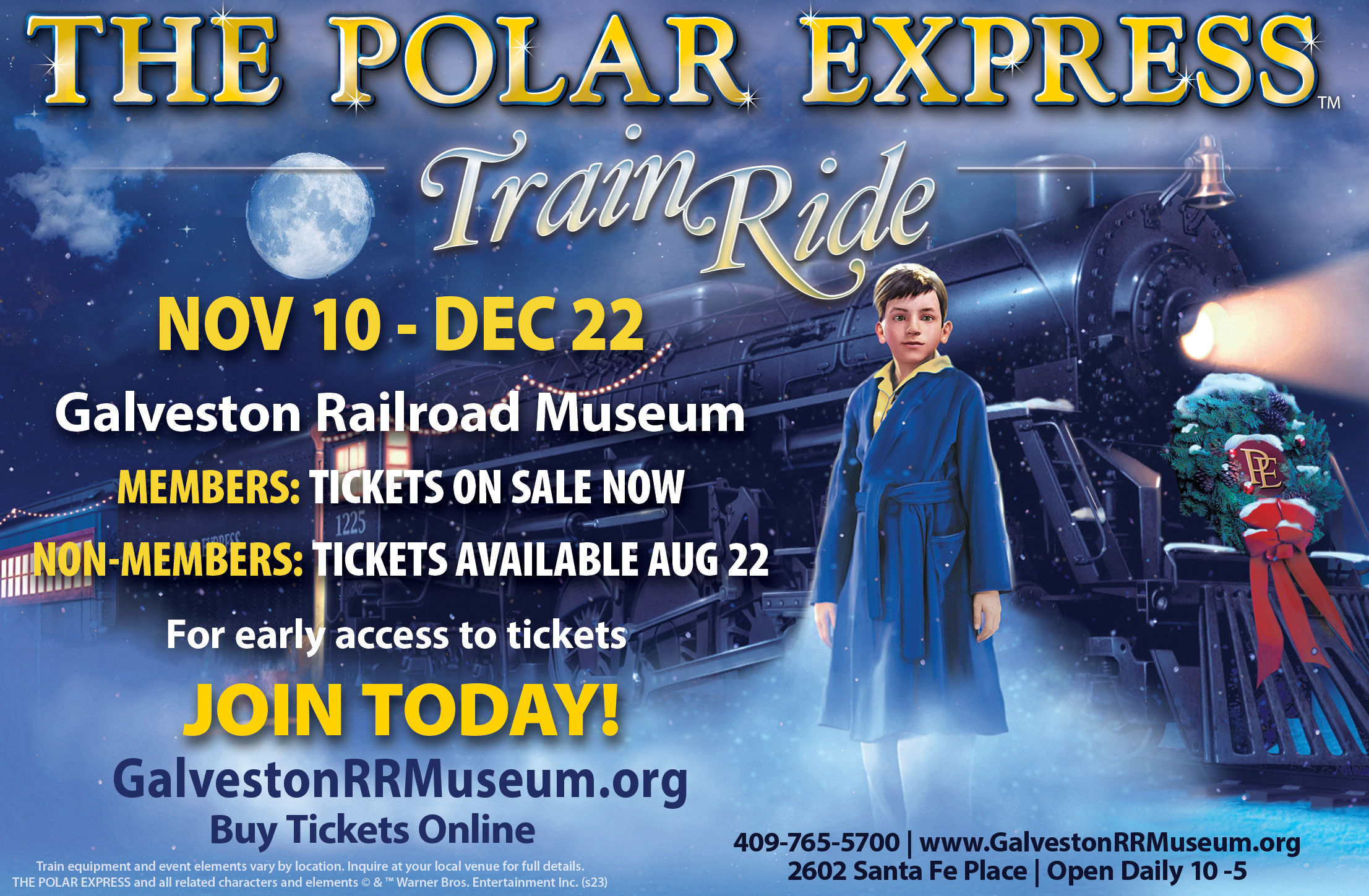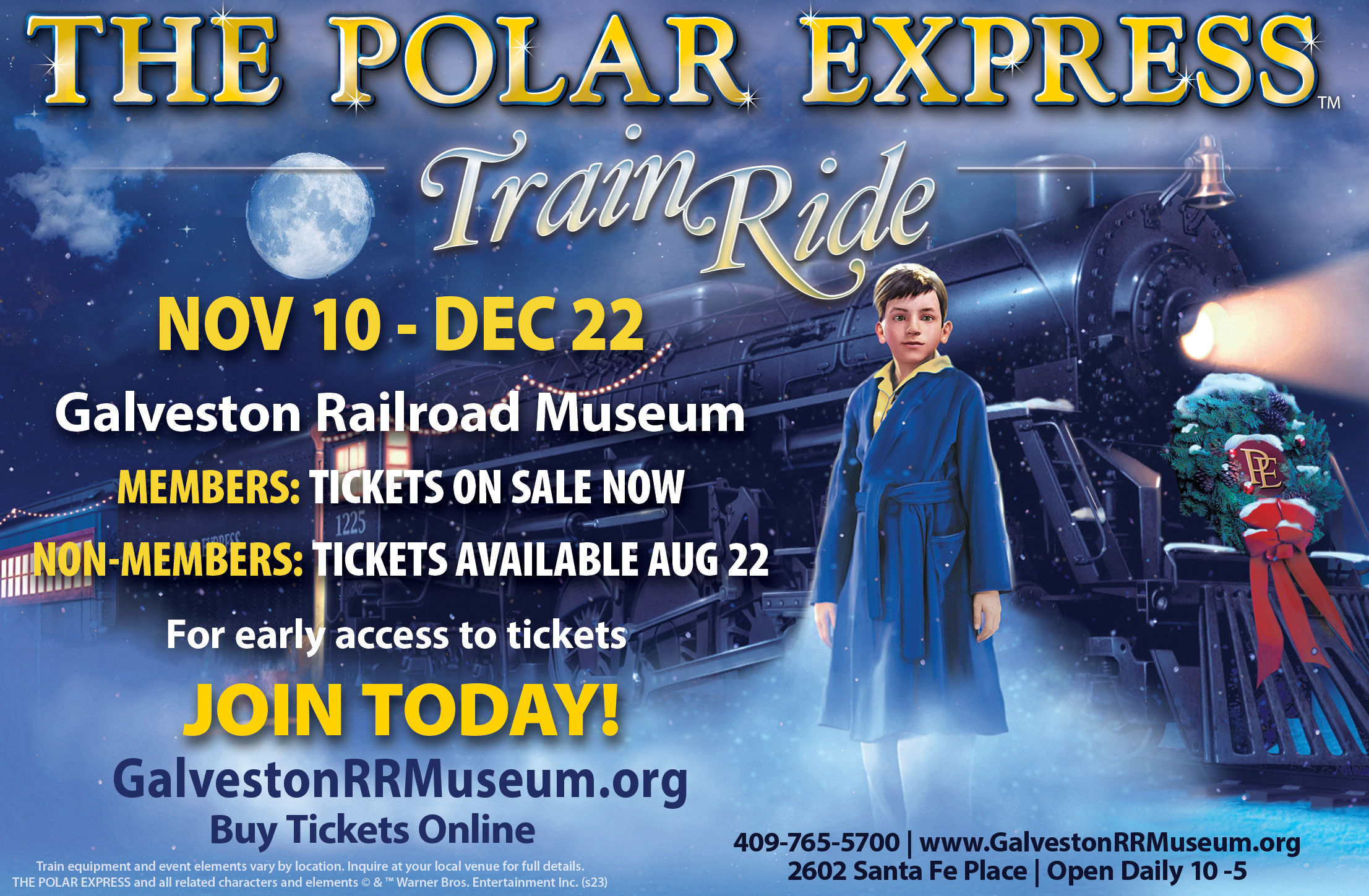 How much time should I plan for the full POLAR EXPRESS™ experience?
To get the full experience, we recommend allowing 2 hours for the entire event. The round-trip train time to the North Pole and back is 60 minutes. You'll want to be at the Galveston Railroad Museum Train Depot one hour before actual departure time to experience the performance that occurs as the train STEAMS into the station! Allowing one hour before also helps take possible driving traffic or delays to the museum into consideration. Final boarding is 10 minutes before departure. After the train arrives at the North Pole, you will enjoy live entertainment and a dance with Santa himself.
Can I purchase alcohol during THE POLAR EXPRESS™ event?
 Adult beverages are available in the museum food court prior to boarding. No Adult beverages are allowed on the train. Bringing personal alcohol is not permitted and one will be asked to leave if alcohol is brought on the train.
Are there restrooms on the train?
Yes. Restrooms in certain coaches will be available during the ride.. 
How soon should I book my tickets?
For best seating we recommend you book your seats as soon as you are able to finalize your date. Certain departure times and certain cars book quickly! If you are in town during THE POLAR EXPRESS™ and HAVEN'T made a reservation, please check to see what we have available either online www.galvestonrrmuseum.org , or by calling (409) 765-5700. We often have seats available even on the same day!
What choices do I have when choosing what car I want to ride?
We have Standard, Deluxe, and Premium-class seating to choose from every night. All cars are air controlled. ALL children receive a bell. ALL cars are decorated for Christmas.  
Coach: Seating: Forward-facing; two people per seat.
First Class:  Seating: 'Flip-over' seating enables parties to face each other. Upgraded amenities include your own take-home souvenir ceramic THE POLAR EXPRESS™ mug.
Presidential: Seating: Table and chair seating in historic, first-class style as the whole family enjoys the upgraded amenities including your own take-home souvenir ceramic THE POLAR EXPRESS™ mug. Special 'theme' Christmas decor!
Is there a wheelchair-accessible car available on THE POLAR EXPRESS™?
Yes, our wheelchair-friendly coach has a lift to assist a wheelchair passenger into the railcar to ride right along with family and friends. Restroom availability is limited. We suggest you use a restroom located at the museum before Boarding.
How should we dress?
As in the story, we encourage everyone to wear their pajamas on this special journey. 
Where can I park my car?
Limited parking is available in the museum parking lot and overflow parking is located at an adjacent parking lot on Santa Fe Place. Parking fee is $20.00 in advance and $25.00 at the gate. Parking may be reserved online with ticket purchase
What time should I arrive at the station?
We ask that you arrive 1 hour before your departure time. Don't miss the pre-boarding show!
What happens at the North Pole?
You will depart the train at the North Pole. Don't forget that you can have a dance with Santa!
What if I need to cancel my trip?
Special and Licensed events (such as Polar Express) are non-refundable if canceled within 60 days of departure.
What if I need to change my trip?
 If change is requested MORE THAN 60 DAYS before the trip date, the fee is waived. If a request is made LESS THAN 60 DAYS from the trip date, we will apply a service/change fee. If you UPGRADE  to a more expensive car or trip date, the fee will be waived!
Does weather impact the show?
The Polar Express train ride runs rain or shine.