Galveston Steampunk Festival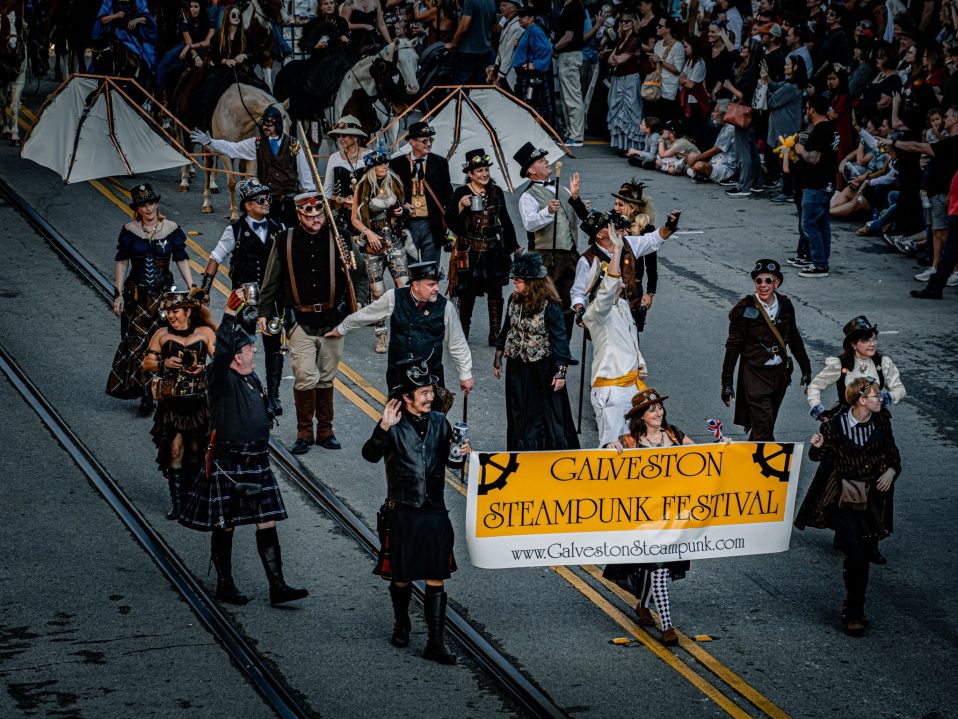 Steampunk Festival RETURNS to Galveston Railroad Museum
The Galveston Steampunk Festival will return in 2024 on April 6th, 2024 at the Galveston Railroad Museum, 2602 Santa Fe Place, Galveston Island.
A family friendly event the Steampunk Festival is filled with entertainment, exhibits, vendors, programs, games and much more!
A subgenre of science fiction, Steampunk incorporates retro-futuristic technology and aesthetics inspired by 19th-century industrial steam-powered machinery. The Galveston Railroad Museum offers a unique location for visitors to be immersed in the extensive history of mechanical innovation that embodies the steampunk spirit. It is most fitting that Historic Galveston Island, built by Victorian industrialists who used new machines and new fabrication methods to drive economic development, was chosen as the location for the inaugural Steampunk Festival.
Potential sponsors and vendors are encouraged to register early to take advantage of the numerous marketing opportunities associated with the event.
Costumes are encouraged as the event takes you back in time through machines, performances, music, costumes, lectures, and more. Family activities include costume contest, teapot races, tea parties, entertainment, marketplace, exhibits, historic tours, vow renewals, food and spirits courtyard. Tickets are now available online. We highly recommend our overnight accommodations partners.
Galveston Steampunk Festival, 2602 Santa Fe Place, Galveston, Saturday, April 6th, Admission; Adults $35, Students 7 – 12 yrs. $15, Tea on a Train $75.
Sunday, Historic Tours, check online schedule. Complimentary parking. Details at www.GalvestonSteampunk.com. (818) 856-1650